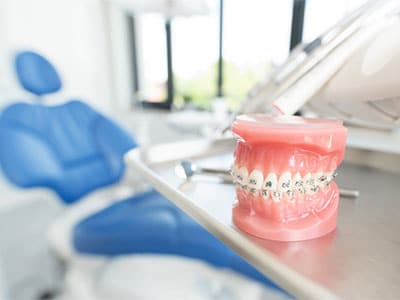 When it comes to improving your smile, at-home teeth straightening kits have become an increasingly popular option for patients looking to correct minor to moderate orthodontic problems. Even though teeth straightening kits are less expensive and time-consuming than services diagnosed and treated by an orthodontist such as Dr. Douglas Elliott at Elliott Orthodontics, the kits can cause more harm than good to your smile and bite in the long run.
What are At-Home Teeth Straightening Kits?
At-home teeth straightening kits are typically purchased online or at a physical location where a "Smile Specialist" explains the process and takes digital impressions of your teeth. You are later presented with clear aligners to begin treatment. The kits purchased online include a dental impression kit that you send back to have scanned and your aligners created. In some cases, you may even receive a preview of what your new smile could look like.
These types of treatments are not overseen by an orthodontist with the proper education and experience you'll find at an orthodontic practice. Improper orthodontic treatment can cause more harm than good and should be addressed by a professional. 
Why Elliott Orthodontics
 is the Better Option
Choosing an orthodontist to help straighten your teeth is not only the best option for a beautiful smile but the best option to ensure your overall oral health is taken into consideration. To help strengthen our argument, below are four reasons why choosing to start treatment with an orthodontist, like Dr. Elliott, is the best thing you can do for your smile. 
Personal Attention: Dr. Elliott

 and the staff at Elliott Orthodontics

 are committed to providing every patient with individualized attention. There is no cookie-cutter approach to orthodontics and, because of this, we create a customized treatment plan for each patient based on their individual needs. 

Multiple Financing Options:

Not only do we care about your smile, we care about helping make sure you have affordable financing options for orthodontic treatment. Similar to companies like Smile Direct Club, we work with you to find the best possible ways for you to afford treatment. 

Experienced Staff:

Our passion for helping others and experience in the orthodontic industry are what set us apart from companies offering at-home teeth straightening kits. We don't just focus on the teeth, but the entire mouth and jaw to ensure proper alignment. With an extensive education in orthodontics and the ability to diagnose and treat a variety of oral issues, you are in the best hands possible. 

Latest Technology and Treatment Options:

Our office is no one-trick pony. We make sure that we are educated and equipped with the latest technology and treatment options the orthodontic industry has to offer that benefit both our patients and practice. We integrate technology wherever necessary to accelerate treatment and provide our patients with the most comfortable experience.
While being able to straighten your teeth from the convenience of your own home is the latest trend, it's just that – a trend. Orthodontic treatment should be performed by professionals. For more information about orthodontics or to schedule a complimentary consultation, contact our office.