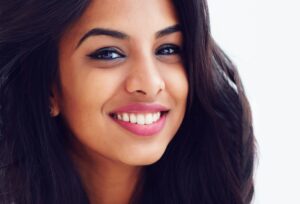 You just took a photo with friends but notice that your smile isn't as white as everyone else's. Did you know that there are natural ways to brighten your tooth enamel? Even better, the solution could already be in your kitchen. To help you put your best smile forward, here are six foods that make a whiter smile.
Apples
They say that an apple a day keeps the doctor away, but did you know it also keeps the stains away as well? Apples contain a high concentration of malic acid, which helps remove stains and clean the teeth. Malic acid can also be found in some toothpaste.
Pineapple
Your toothpaste and pineapple have something in common; they both contain bromelain. Bromelain is a compound made up of anti-inflammatory and cleansing properties – perfect for cleaning the teeth. Pineapple is the only food that naturally produces this compound and, depending on the season, can be found at your local supermarket.
Broccoli
Are you getting enough fiber? Eating raw broccoli will make sure your body has enough fiber to reduce inflammation and clean your teeth. In addition to cleaning your teeth, broccoli also creates a wall of protection for tooth enamel. It breaks down the acid left behind by bacteria to help prevent stains and cavities.
Cheese
Cheese contains important proteins and minerals, such as calcium and phosphorus. Together, these elements protect the enamel of your teeth while making them stronger. Cheese also contains lactic acid, which helps to prevent tooth decay. Hard cheeses are also great for stimulating saliva to help clean the teeth.
Strawberries
Similar to apples, strawberries also contain malic acid. Adding to that, they are also made of antioxidants that reduce bacteria and inflammation. The vitamin C they produce is an added benefit for periodontal disease prevention as well.
Baking Soda
Your pantry or refrigerator might already be stocked with one of the best alternatives for toothpaste – baking soda. This form of salt is also a bleaching agent that helps to remove plaque and stains from the surface of the teeth. Try switching your toothpaste with baking soda this week and notice the difference.
The Good Old Fashioned Dental Cleaning
While the above foods are great for cleaning your teeth and creating a brighter smile, nothing beats a dental cleaning from your dentist. Your dentist's staff is experienced in finding the areas you may have missed with brushing or flossing. They can also remove plaque, tartar and evaluate you for periodontal diseases and other threats to your oral health.
If you have other questions or would like to schedule an appointment for your complimentary orthodontic consultation, please contact Elliott Orthodontics in Merrimack or New Boston NH.