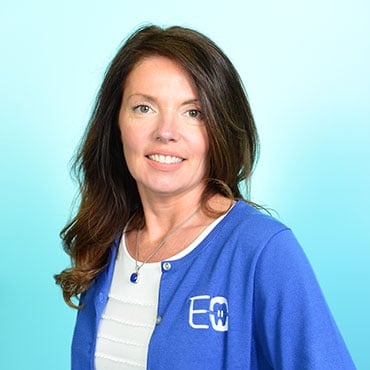 Practice Manager
What I do at Elliott Orthodontics:
With over 30 years of experience in this exciting field of Orthodontics, I've had the opportunity to learn and perform each important role on the team. As a member of the team since day one, I'm excited to see how Elliott Orthodontics has grown & evolved over the years.
I enjoy managing every aspect of the practice and ensuring that we are providing a rewarding experience to each and every patient. The professional, caring, fun team I get to work with is truly a gift that is hard to come by!  I also enjoy the professional relationships/friendships I have with many area dental office managers through my membership with NADOMG (Nashua Area Dental Office Manager's Group).
Favorite thing to do when I'm not working:
Anything that involves spending time with my husband and children, especially if it's outdoors.
Favorite Indulgence:
Dark Chocolate
If I could visit any place in the world it would be:
Bora Bora
Something else about me:
As a kid, I was such a Tomboy and mostly played with boys.  I grew up to become much more girly but, I'm still a Tomboy at heart! Also, whether it involves cooking, home decor or gift giving, I love tapping in to my creative side.